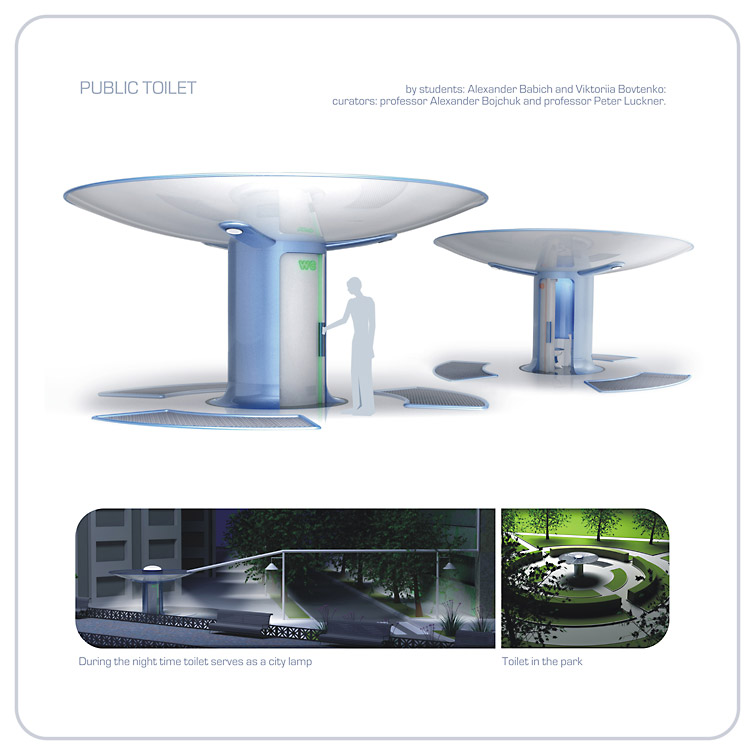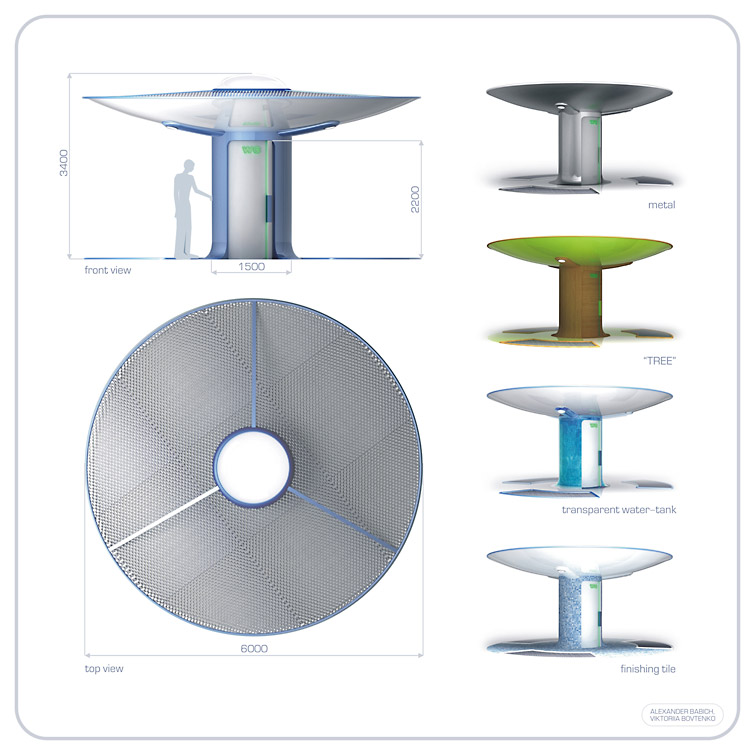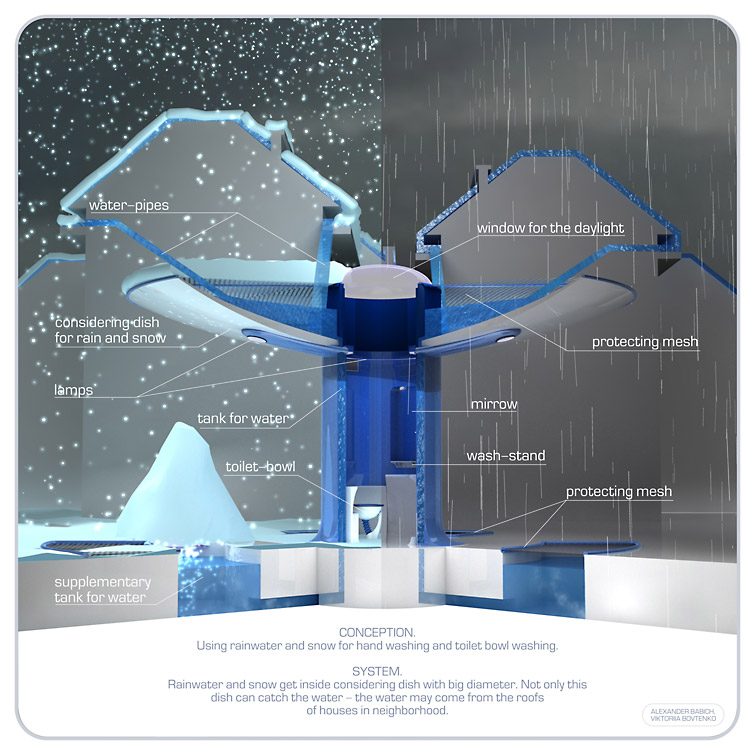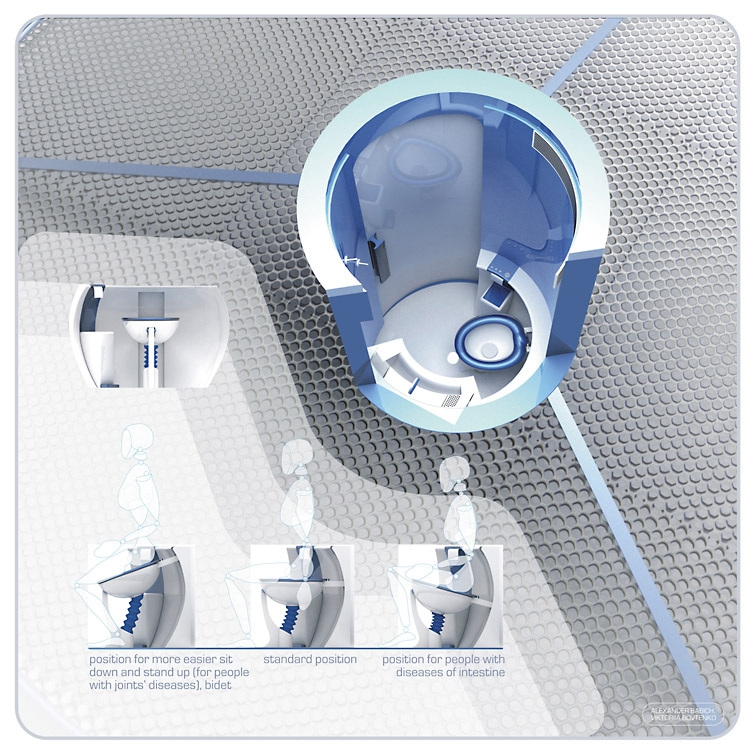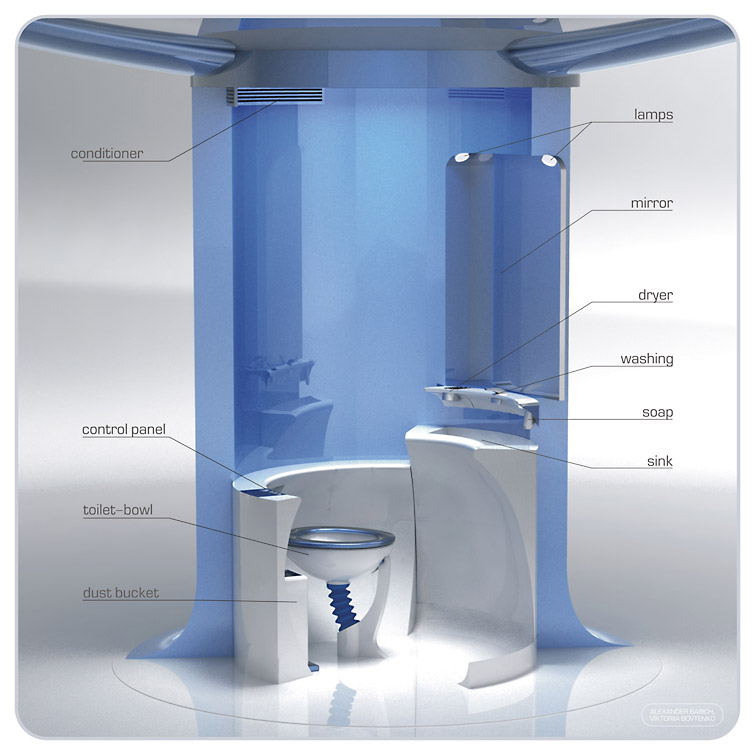 Date: 2006
Status: concept
Category: ecological design, social design, bathroom equipment.
Client:World Toilet Organization, dr. PeterLuckner
Team:
Curators: Alexander Boychuk, Peter Luckner
Designer: Alexander Suricoma Babich, Viktoria Bovtenko
Task:To create a public toilet, using the ecological approach of designing.
Conception: Using rainwater and snow for hand washing and toilet bowl washing.
SYSTEM.Rainwater and snow are collected in a wide bowl. Not only this bowl can collect water -water may come through water pipes from roofs of neighbouring buildings. In winter, after cleaning roads, parks, people place the collected snow in a special underground tank. Snow thaws and becomes water.
ECONOMY (allows saving):
1. Water.
An average amount of precipitation in a moderate climatic belt is 750mm. The toilet bowl is 6meters in diameter; it is capable to collect 21000 liters of water per annum and will provide about 4200 persons. Also, take into account roofs of neighboring houses. On the average, each square meter of a roof provides 75 persons per year. It means 19 hours of toilet continuous (this is the data for a moderate climatic belt).
2. Annually, the state spends many resources to remove snow from the city. The system of using melted snow in toilets allows reducing the expense in several times. Reduced spot-checks of snowploughs reduces emission of harmful gases and unloads lines. Therefore, the "PUBLIC TOILET" can affect this actual problem of modern cities.
Awards/exhibitions: is noted by the organizing committee of competition "Vodoparad-2007" the grant on prototyping, Ukraine, Kharkov.
2d place in «industrial design» nomination, the International youth festival of design "Marksman", Russia, Nizhniy Novgorod, 2008.