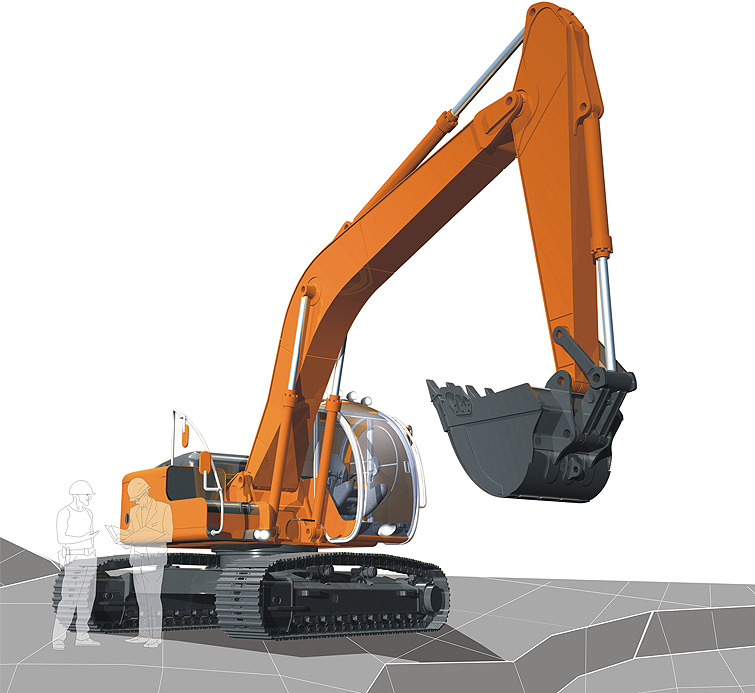 Date: 2007
Status: concept
Category: transport design (the building technics)
Client: companies Sanko (Turkey), within the limits of the degree project in KSADA and training in IDI design studio
Command:
curator: Sergey Vergunov, Alexander Kushnerevich
designer: Alexander Suricoma Babich
technical adviser: Alexander Kushnerevich
adviser for ergonomics: Lydia Utevskaja
Task: to create an innovative dredge which can easily and quickly be start in production. Using as much as possible components of excavator Daewoo solar.
A concept: 01 – Usage of an active-floating counterbalance. Does the excavator convenient as for work in clamped space (a city zone, wood, mountains, etc.) and for work on big open spaces (open-cast mines, building of lines). With the pushed counterbalance the excavator has high maneuverability at turn, is conveniently transported (gets into the truck and so on), less than his analogues takes place on parking. At counterbalance promotion is extended a counterbalance shoulder of bucket that increases hoisting capacity (allows moving a big weight, to use the bucket of higher capacity, extended jibs, etc.)
02 – The counterbalance is modular, demountable and also is easily mounted by any forklift. Allows regulating weight of the excavator (if necessary it is possible to transport separately and to mount directly in a work zone). It optimises work. More weight –naturally a bigger bucket–faster work. Less weight – a smaller bucket– a guarantee that it will not fail. (Work in a city, where many underground communications, bridges, mountains, etc.)
03 – Between an operator cabin and the basic frame of a dredge are located shock-absorbers which absorb small vibrations and softening jerks at work.
04 – Built-in a signal-emergency system showing overall dimensions of a excavator and the party of detour. Does an excavator well visible on a line at night when it was left by workers and has forgotten to fence with a detour.
Awards/exhibitions:
2 place in a nomination «industrial design», IV international forum «Dizajn-osvita 2007», Kharkov, Ukraine, 2007.
3 place in a nomination «design of vehicles», the International youth festival of design of "Marksman", Russia, Nizhni Novgorod, 2008.